FEATURES
Bucket mount quickly attaches to any Bucket Lip.
Receiving hopper tapered front to back to improve material flow
Gates adjust with screw jacks to work from 5" below grade to 4" above grade.
Telescoping rods with case-hardened set screws.
2″ skid shoes.
Applications include asphalt trench paving, backfilling trenches, spreading base material on road shoulders, grading median strips, and grading sidewalks, or other confined areas.
Variable widths achieved with hand crank, or with optional hydraulic widening.
OPTIONS
Two 4" cutoff plates bolted to inside of hopper to narrow paving width on any size by 8" (i.e. MT 30" – 50" narrows to 22") Also available in 6".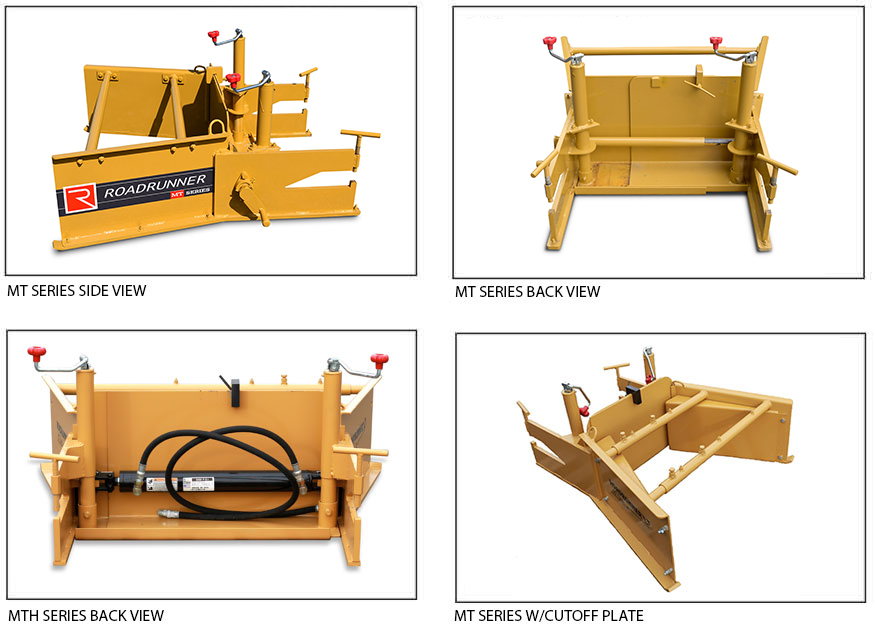 MT MODELS
Model – Paving Widths:
MT 16-26 – 16″ to 26″
MT 24-36 – 24″ to 36″
MT 30-50 – 30″ to 50″
MT 40-60 – 40″ to 60″
MTH WITH ON-THE-GO HYDRAULIC WIDENING
Model – Paving Widths:
MTH 24-34 – 24″ to 34″
MTH 40-54 – 40″ to 54″
MTH 48-72 – 48″ to 72″
Requires two remote outlets on boom.
MULTITASK PAVER/SPREADER PRICING
MT 16-26 $2,195.00
MT 24-36 $2,395.00
MT 30-50 $2,595.00
MT 40-60 $2,795.00
MTH 24-34 $2,680.00
MTH 34-54 $3,080.00
MTH 40-60 $3,280.00
MTH 48-72 $3,480.00
Set of 4" cutoff plates $264
Set of 6"cutoff plates $282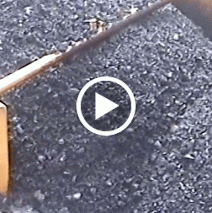 "The grader is working very well for our family. We have a very long-gravel driveway. I am 42 years old. Throughout my youth, I spent many days filling potholes and dressing/maintaining the same piece of road. The Roadrunner saves a lot of time and effort. It does a fantastic job. I frequently express, to my parents, how welcome the implement would've been had it been available when I was very young. I work for a fire department here in central Virginia. A lot of my fellow employees have a business on the side, usually involving landscaping or property improvements. I recommend your product with the highest praise and support. Thank you for your service and product. Please express our gratitude to your family and your employees for the workmanship and quality of a fine piece of equipment."
- Doug Renn, Prince George, Virginia
"I REALLY like the grader - I have only done about 3 miles of road with it so far and it performed totally as you said it would - the scarifying/serrated blade really worked great on the roads with grass growing up in it - after going over them once or twice the grass totally disappeared; with the hydraulic cylinder on the one side it was easy to put a crown on the roads, and for cutting in a daylight ditch on the side of the road. I have not had a chance to use the 3-point yet - I have only used it on the Cat skidsteer, which it worked great with. I cannot say enough good about it and after doing research for quite a bit with your competitors I am VERY Happy I chose your product. I will be working with it this coming year and if I run into any thing I feel could be changed I will let you know. THANK YOU once again for your GREAT service and help in this purchase."
- Jack C. Carder
"With the frozen ground I have really only had one weekend that I have had a chance to use it and the ground was more wet than would be ideal as it didn't want to waterfall over the blades but instead stick. With that being said, using it in less than optimal conditions it is absolutely better than I had ever dreamt it to work. My potholes are gone and there were a lot of huge ones on my 3/4-mile driveway. Everyone that comes over can't believe how nice the driveway is. I can't wait to use it in optimal conditions. Thanks for making a true quality American made piece of equipment."
- Jon
"We love it can't beat it for the money. Thanks!"
- John Canto
"I am so glad we purchased the trench paver; it worked out better than I had expected. As with everything, you have some fine-tuning but the results are excellent. I highly recommend this to anyone that wants to do small patching. We set it up around 4-feet wide and build up the edge of the road and smooth out the wheel ruts. It works excellent!"
-Tom Shafer, Greenfield Twp Road Supervisor
"I am thrilled with the roadrunner. I maintain roughly a mile of dirt and gravel paths. I found I can achieve better results in about 1/3 the time it took with my box blade. It is a great and rugged product."
- Jeff Hines