Top-Quality Skid-Steer Grader Attachments
Built for high-performance grading, Roadrunner skid-steer graders stand out due to their exceptional build quality and impressive performance. Designed for the toughest jobs, our graders provide the experience you desire, offering ease of use with cutting-edge technology. Whether you're a homeowner, farmer, or business owner, you'll find the skid-steer grader attachments you're looking for when you work with us. Browse our site to learn more or contact our team directly.
CH SKID STEER GRADER SHOWN WITH SERRATED EDGE AND OPTIONAL BOLSTER WHEELS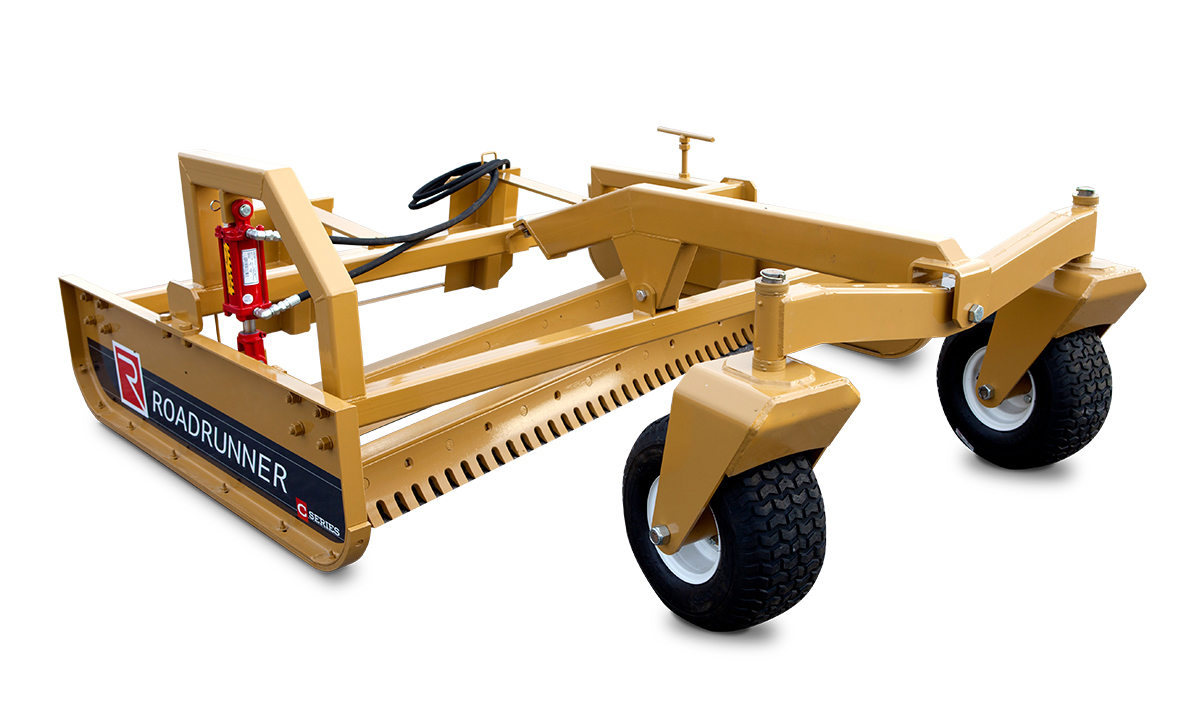 Increases the C Series' ability to grade packed gravel, especially with the serrated cutting edge.
Increases control for fine grading and spreading stone.
With its dual-blade configuration, side pans, and working weight, our skid-steer grader attachment provides you with an ideal solution for gravel road maintenance. Our skid-steer grader attachment fills potholes that stay filled longer, eliminates washboarding, and does not leave windows but leaves the material directly behind the grader. And with the ability to spread and finish soft and loose material with ease, our skid-steer grader attachment is able to get the job done usually in only one or two passes.
CH THREE POINT / SKID STEER COMBO GRADER
Combo unit comes with both tractor 3-point and skid-steer attachment
Available in hydraulic depth adjustment or manual depth adjustment
When it comes to grading, a one-size-fits-all solution is less than ideal. At Roadrunner, we understand the unique needs of our customers and proudly offer products that can maneuver in and out of tight corners and pivot within narrow spaces. Near impossible for large graders, the capabilities of our product make it a great choice for anyone looking for a versatile gravel grader.
In addition, our skid-steer graders come with a universal mounting plate for skid-steer, dual-blade configuration with dual 5/8" bolt-on standard motor grader edges. They also have side pans with replaceable runners fabricated from hardened AR plate, and three 3" crossmembers bolted to side panels with high-grade bolts. Anytime you put one of our gravel graders to use, we're confident you'll find it to be one of the most effective and efficient pieces of equipment you have ever used.
CH SKID STEER WITH OPTIONAL DUAL HYDRAULIC AND ELECTRONIC HOOKUP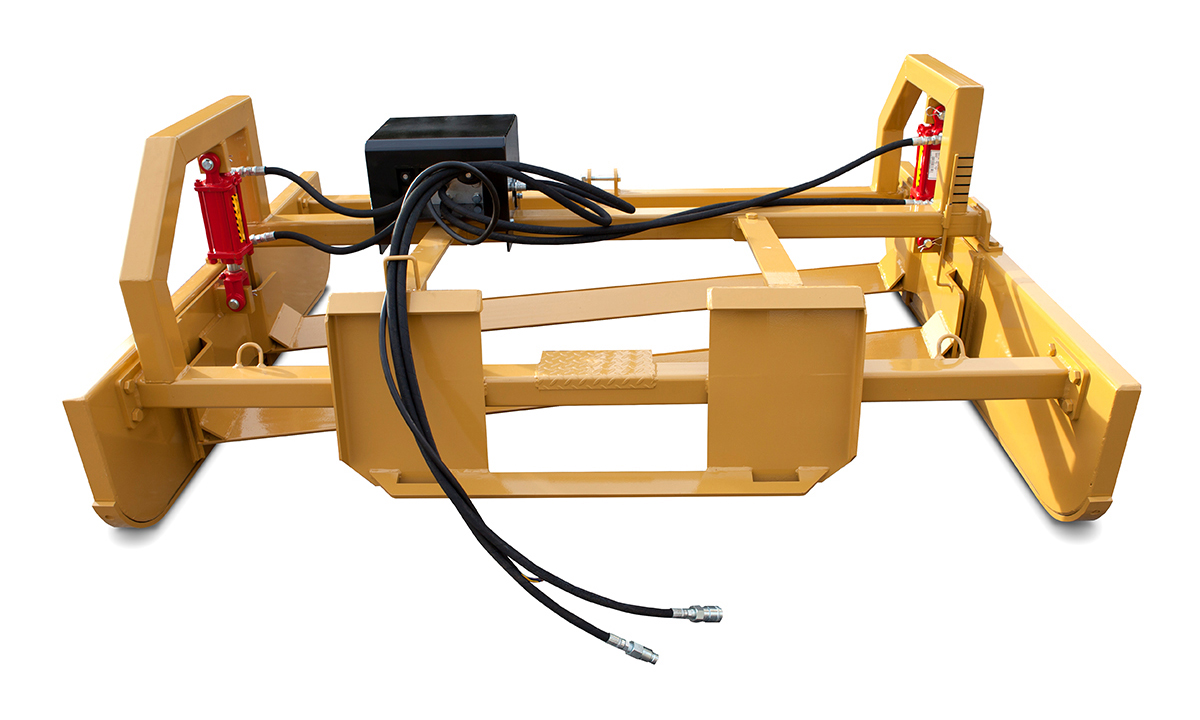 Available with optional dual hydraulics and electronic hookup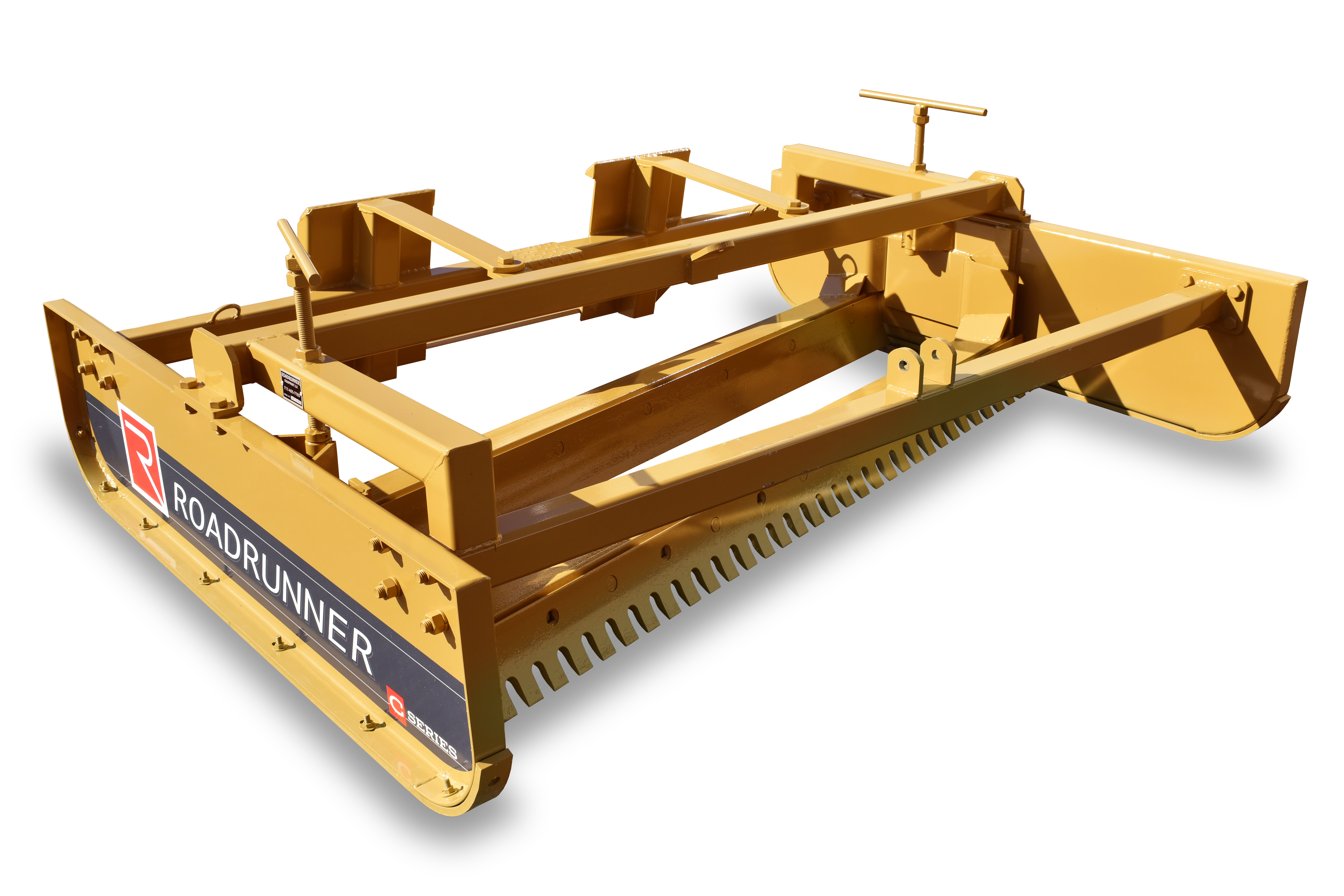 Quality Skid-Steer Products, Personal Customer Service
If you're in the market for a quality and effective skid-steer grader, call the experienced team at Roadrunner. We've been providing gravel graders since 1998 and have built a reputation for outstanding customer service and second-to-none products that are built to last. No matter what your specific need may be, our team is ready to provide assistance and insight. Contact us today to learn more about our skid-steer graders, and feel free to browse the rest of our site to learn more about our quality attachments. We look forward to serving you as your skid-steer attachment dealer.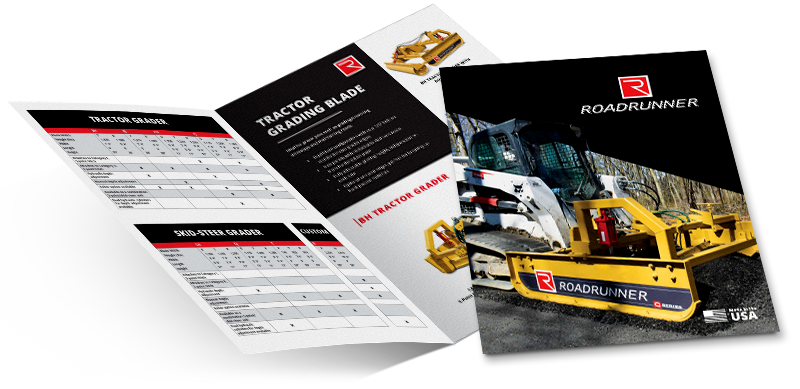 CJ SERIES WEIGHTS AND DIMENSIONS
(Manual depth adjustment)
Blade Width – Weight – Width – Length – Height
6 – 1,115 lbs – 6′ 4″ – 5′ 6″ – 17″
7′ – 1,200 lbs – 7′ 4″ – 5′ 6″ – 17″
8′ – 1,285 lbs – 8′ 4″ – 5′ 6″ – 17″
CH SERIES WEIGHTS AND DIMENSIONS
(Hydraulic depth adjustment)
Blade Width – Weight – Width – Length – Height
6′ – 1,150 lbs – 6′ 4″ – 5′ 6″ – 17″
7′ – 1,250 lbs – 7′ 4″ – 5′ 6″ – 17″
8′ – 1,350 lbs – 8′ 4″ – 5′ 6″ – 17″
Dual hydraulic cylinders for depth adjustment available on special order.
Bolster Wheels option available on both CJ & CH series. CJ&CH series are also available as a combination 3-point/ski-steer unit.
"The grader is working very well for our family. We have a very long gravel driveway. I am 42 years old. Throughout my youth, I spent many days filling potholes and dressing/maintaining the same piece of road. The Roadrunner saves a lot of time and effort. It does a fantastic job. I frequently express, to my parents, how welcome the implement would've been had it been available when I was very young. I work for a fire department here in central Virginia. A lot of my fellow employees have a business on the side, usually involving landscaping or property improvements. I recommend your product with the highest praise and support. Thank you for your service and product. Please express our gratitude to your family and your employees for the workmanship and quality of a fine piece of equipment."
- Doug Renn, Prince George, Virginia
"I REALLY like the grader. I have only done about 3 miles of road with it so far, and it performed totally as you said it would — the scarifying/serrated blade really worked great on the roads with grass growing up in it. After going over them once or twice, the grass totally disappeared. With the hydraulic cylinder on the one side, it was easy to put a crown on the roads, and for cutting in a daylight ditch on the side of the road. I have not had a chance to use the 3-point yet. I have only used it on the Cat skid-steer, which it worked great with. I cannot say enough good about it and after doing research for quite a bit with your competitors, I am VERY happy I chose your product. I will be working with it this coming year, and if I run into anything I feel could be changed, I will let you know. THANK YOU once again for your GREAT service and help in this purchase."
- Jack C. Carder
"With the frozen ground, I have really had only one weekend that I had a chance to use it, and the ground was more wet than would be ideal, as it didn't want to waterfall over the blades but instead stick. With that being said, using it in less than optimal conditions, it is absolutely better than I had ever dreamt it to work. My potholes are gone, and there were a lot of huge ones on my 3/4-mile driveway. Everyone that comes over can't believe how nice the driveway is. I can't wait to use it in optimal conditions. Thanks for making a true quality American-made piece of equipment."
- Jon
"We love it. Can't beat it for the money. Thanks!"
- John Canto
"I am so glad we purchased the trench paver; it worked out better than I had expected. As with everything, you have some fine-tuning, but the results are excellent. I highly recommend this to anyone that wants to do small patching. We set it up around 4-feet wide and build up the edge of the road and smooth out the wheel ruts. It works excellent!"
-Tom Shafer, Greenfield Twp Road Supervisor
"I am thrilled with the Roadrunner. I maintain roughly a mile of dirt and gravel paths. I found I can achieve better results in about 1/3 the time it took with my box blade. It is a great and rugged product."
- Jeff Hines